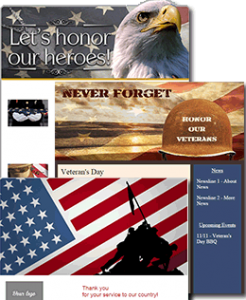 Veterans Day Email Templates
Tuesday, November 11, is Veterans Day. To honor the many brave men and women that have served in the Armed Forces to defend the U.S.A, we have created some new Veterans Day email templates. If you would like to use one, when you Create a New email campaign, select to use a template and click on the Holiday category. The Veterans Day email templates come first. These are very special email templates that we hope you will be able to use let the veterans know you remember them.
Holiday Email Marketing
We are now at the beginning of the holiday season and email marketing is a big part of it. Whether you are a retailer sending out promotional emails for Black Friday and Cyber Monday or just looking to wish everyone on your list a Happy Thanksgiving, Merry Christmas, Happy Hannukah and a Happy New Year, ResultsMail is here to help. While we already have dozens of holiday email templates for every occasion, we continue to add more. These Veterans Day Email Templates are just to get things started.  In the coming days we will notify you as soon as new holiday email templates become available.