Labor Day Email Campaigns Bring in the Sales
Every American loves a holiday weekend. There's nothing like an excuse to just take a break, head to the beach, start up the BBQ, watch a parade and spend some time with the family. But there's something Americans like even more and that's buying stuff they don't need because the price is right!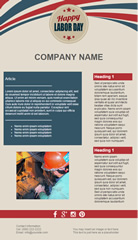 Summer may be over, but one of the biggest weekends for sales is here!
For retailers it's the best opportunity to make a final seasonal push before diving into the winter holiday madness.
We want to help you create smash-hit Labor Day emails with ResultsMail. To make it even better we've created some new Labor Day Email Templates.  If you want to use one, just go log in to your ResultsMail account, click on Create New, select campaign and then start from a template.  The Labor Day Email templates are in the Holiday category of email templates.  Don't have a ResultsMail account yet?  Click here to sign up for Free account just in time for your Labor Day Email campaigns.
Here are some great tips for your Labor Day Email Marketing:
Creativity is everything in your subject lines.Subject lines for email campaigns are the key to your success. "Labor Day sales", "best Labor Day deals", and "Labor Day Savings" are the most used subject lines and body headers for Labor Day email campaigns. Don't forget to advertise those Back to School Specials either!
Sending your Labor Day emails just in time for the holiday is essential.If you have a travel agency, hotel or restaurant, now's the time to blast out those emails. Let everyone know where's the best place to spend their weekend. Send beautiful pictures of your hotel, restaurant or the wonderful places they can visit to let them know about the deals and the rooms you still have available. Everyone wants a last minute deal so now's your chance.
Want to grab their attention? Find a fun subject line to jump out of that inbox.Don't be afraid of long subject lines, just get your massage out. Take your time to be creative and create a perfect subject line for your Labor Day campaign. Subject lines for Labor Day email campaigns don't vary much. "Labor Day" and "Sale" are always the main copy in the subject and body of the emails. Try:• Last Day for Labor Day Savings
• Free Shipping All Labor Day Weekend
• Don't miss it, last sales of Labor Day, today!
• Big Labor Day Discounts Start Today
Try to add your own touch and make your holiday emails stand out from the crowd.
Are you hosting a sale or special deal?
Get out that last reminder this week, and promote it via email to grow conversions for those last minute costumers.
Labor Day email campaigns are typically focused on the holiday itself, and everyone will be out there searching for Labor Day Deals, Labor Day Sales, Labor Day Recipes and Labor Day Store Hours. These keywords are most common in the days immediately before and on the holiday itself, so try to use these words in your subject line.
We wish you a wonderful Labor Day weekend!