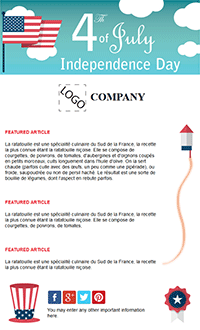 July is here! Summer Email Marketing is here!  It's time to celebrate the freedom to go wild with ideas to heat up your summer email marketing efforts.  Go for a nice swim in the marketing waters this summer — dive in with these great tips to promote your business!
July is all about patriotism and enjoying the outdoors and warm summer days.  There's nothing that celebrates freedom and summer fun like the parades, BBQ's and fireworks on the 4th of July!  To get into the spirit of Independence Day, ResultsMail wants to help you show off your American pride with patriotic ideas and new templates. Let's have fun in the sun and promote the best deals!
Selfies
Your consumers will be sharing social content this holiday. Run a Facebook photo contest that prompts fans to submit their favorite July 4th snap. Give prizes to the fans the get the most votes. Fans will ask friends for votes, prompting a shares and Facebook page Likes. Perceptive marketers like you will find ways to put this stream of content to work for your brands. You can create a fun social marathon of selfies. Post it on your website to bring in costumers and promote your great deals and Holiday discounts.
If you hold special sales or promotions this summer, promote them as a 4th of July special.
If you have a blog or a website, don't forget to be relevant on your posts.
Here are some ideas:
Best view of the fireworks; dine while catching a 4th of July show.
July 4th best patriotic outfit.
Better then fireworks, our sparkling desserts are waiting for you.
Top Ten Cities for celebrating the 4th of July, don't miss it, and escape with us.
Whether it's a parade or a town center fair, make an appearance and promote your business.
Show patriotism on social media online! Keep up your social media accounts and post pictures of your store or products with the patriotic colors.
Include an entry form as part of the campaign, and capture those email addresses.
But July is more then Independence Day. We also have other fun festive days to use in summer email marketing like scary shark week, loving kissing day or delicious ice cream day.  Let's learn what can we do for those days.
Shark Week is July 5 – July 12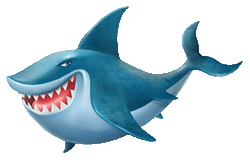 Shark Week is for an entire week every summer. Shark Week is promoted heavily on social media, so get involved with the discussions and get in the summer spirit!
Restaurants can have lots of fun with Shark Week specials.  Obviously if you have a seafood place you know what to promote, but there's also lots of room for shark cakes, shark drinks, shark burgers, bloody shark steaks, shark, shark, shark.
Retail stores this is your last chance to offer deep water discounts on clothing, toys and more for the beach!
Dentists promote those multiple row teeth cleanings!
And remember if a shark knocks on your door, don't open!
International Kissing Day is July 6
International Kissing Day is celebrated in July! Customers will love a discount or prize to those who kiss and take a selfie at your store.
Remember Kissing day is a sort of midsummer, mini Valentine's Day. It's an opportunity to promote relationship-related content and gift giving. You can boost the sale of love and care products and gifts.
Take a look at our Valentine's Day Email Marketing templates and see what you can use for Kissing Day.
National Ice Cream Day is July 19th
I scream for ice creamail in July!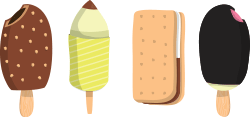 In 1984, President Ronald Reagan decided July was to be "National Ice Cream Month." The Jelly Bean Man gave us one more sweet reason to remember him.  National Ice Cream Day is the third Sunday, which is July 19th this year.
If you sell ice cream, you know what to do, but if your business doesn't sell food, you can still take advantage of the holiday:
Have an ice cream party at your business and show all the fun on social media. This increases the reach of your post to engage with their customers.  Promote it across all your marketing channels, prompting fans to get a free ice cream. Use the user content to drive traffic to relevant product pages and make sales!
July 4th is big for retail sales events, which means you have a lot of competition for those fun festive days. Use these tips to help your promotions and campaigns go viral.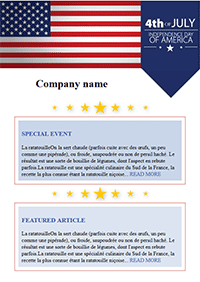 Create a Twitter campaign around a special offer.
Give followers the chance to unlock the discount if a certain number of them re-tweet the offer. Promote the contest via ResultsMail by sending a dedicated summer email marketing campaign with one of our special new templates to your customer base. You will love to see your discount go viral.
Create a hash tag to promote across all of your marketing channels and through in-store promotions. Prompt fans to share photos or stories. Set up an automatic response to posts with a coupon code they can redeem on your site or in-store.
Make sure to link back to relevant items to drive commerce.
Many consumers will be traveling this summer. This doesn't means they can't shop! Make sure your digital campaigns are mobile-optimized and designed for easy engagement with tempting deals and very colorful pictures that match these very fun times.
We wish you the best of Success in your Summer Email Marketing!