Celebrate Labor Day Weekend with New Labor Day Email Templates!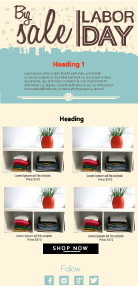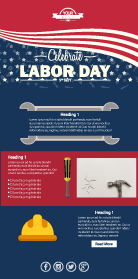 Nobody wants summer to end, but for online marketers it's a great reason to re-charge your marketing efforts. Labor Day Weekend is the end of summer, the beginning of the school year, the beginning of fall, and the start of the Holiday season.  To help you out, we've created some special new Labor Day Email Templates.
We have some Labor Day Email Templates that are standard newsletters and others that are focused on sales.  If you are a real estate agent, take advantage of this holiday weekend get out the news about your open houses or use the opportunity to tell other agents and sellers about how hot the market is right now.  All of you mortgage brokers out there know that now is a great time to let buyers know how low rates are and the urgency of locking them in.
Online retailers will love our new Sale Labor Day Email Templates.  They are perfect for getting out the news about your special Labor Day Promotions.  Labor Day also means Back to School sales.  Families everywhere are shopping for school clothes, computers, bicycles, backpacks, and everything a student needs to make their year great.
If you want to use one of our new Labor Day Email Templates, just go log in to your ResultsMail account, click on Create New, select campaign and then Start from a Template.  The Labor Day Email templates are in the Holiday category of email templates.
Here are some Tips to remember for your Labor Day Email Marketing:
Keep your subject lines short and simple. People will be receiving a lot of emails so you need to grab their attention quickly.  Here's an example from Office Depot: "Early Labor Day Sale + Save Up to $40" Short, simple, to the point and includes an eye-catching offer.
Include your offer! Make sure to place a competitive discount in your subject line.  It's great to let people know you have a Labor Day sale, but don't forget to put in a tangible offer.  Frontier Airlines leads with it: "Fly from $29 + Save on Labor Day Travel!"
Express the urgency of your offers. Let them know this is their last chance jump on your Labor Day deals.  Notice how Best Buy reminds us that now is the time and includes their offer in this simple subject line: "IT'S HERE – save up to 35% when you shop the Labor Day Sale"  Pottery Barn reminds us the time is limited for some great offers: "5 Great Sales Not to Miss: Up to 70% Off 100s of Items! – GET READY FOR LABOR DAY"
DON'T BE AFRAID TO SHOUT!! Using ALL CAPS in your subject line is a great way to stand out from the rest…especially if you're shouting about a deal they can't pass up.  Here's an example subject line we saw from Overstock.com, "15% OFF COUPON! OUR BIGGEST LABOR DAY SALE EVER STARTS NOW!"
Celebrate hard work. Our hard hat and hammer Labor Day Email Templates follow this motif.  Take time to remember all of the hardest workers that deserve this break to spend times with their families and relax.
Show patriotism. While this is not a typical patriotic holiday, every holiday in the USA is a great time to bring out the Stars and Stripes. We have added some Labor Day Email Templates with patriotic colors just for this purpose.   With the close of the Olympics, patriotism is at a high and it's a great time to play off of that in your emails.
Send early, send on time and send late. While it's obviously great to email a week or two in advance, it's also important to send on Labor Day itself and several days afterwards.  Let people know your sales are coming, remind them when it's the final day, and then come back to them with a second chance.  It's all about the sales.

We wish you a wonderful Labor Day weekend.  As always if you need any assistance in making your next email campaign a success, ResultsMail is here to help.
Don't have a ResultsMail account yet?  Click here to sign up for Free account just in time for your Labor Day Email campaigns!